The opening act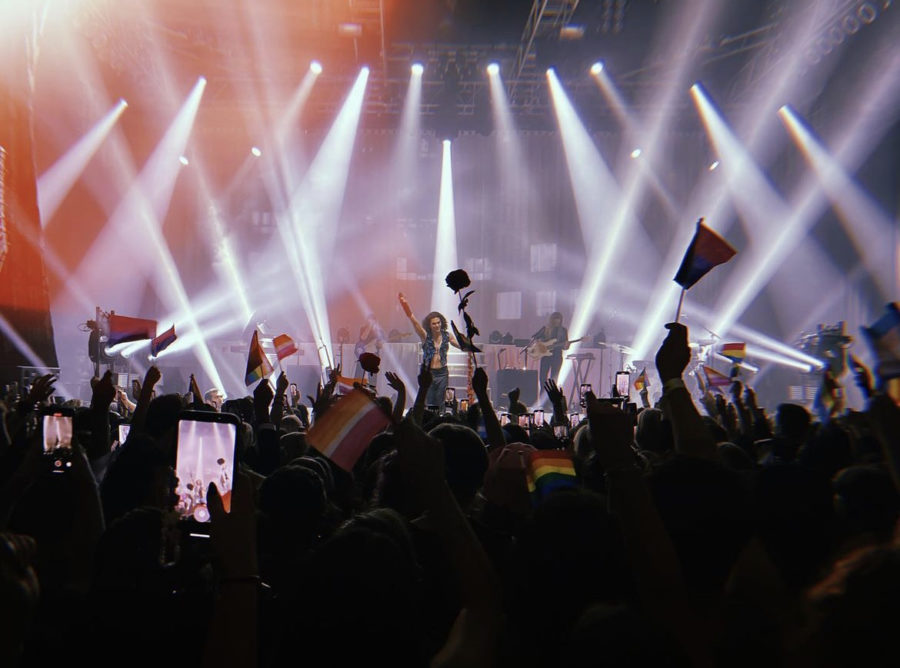 photo by Bela Guise
For avid music fans like France, going to concerts is not an impulsive, last-minute decision; it is one made months in advance. A big Red Hot Chili Peppers fan, France bought her concert tickets for their Sept. 16 show at Camping World Stadium as soon as they dropped to assure that she got seats close to the stage. 
"I try to buy tickets earlier so I don't end up with bad seats," France said. "I am a huge fan. It was completely worth it."
Other fans, such as Uhler, buy concert tickets on a whim. On the morning of the Lil Nas X concert, he checked Ticketmaster to see if there were any nosebleed tickets left, but what he found was shocking: pit tickets for $37, a drastic contrast to the original price of $400 or more. Uhler ended up in the third row. 
"Going to see Lil Nas X was so out of the norm for me," Uhler said. "I got super lucky."
But preparing to go to concerts goes past buying tickets. Harry Styles' "Love on Tour" made dressing fancy for concerts a big trend; fans would take photoshoots and make TikToks beforehand to flaunt their outfits. Although Guise could not attend "Love on Tour," she has adopted the idea of turning each concert into her own fashion show, buying her outfits online months before an event. For the Conan Gray concert, she wore a black crop top and cargo pants, looking to match the vibe of the music and everyone in attendance.
"I like planning out my outfits because concerts are one of my favorite things ever," Guise said. "When I dress up, it makes them even more fun."
For many, planning what to wear is not as important as planning who to go with. Uhler likes to attend concerts with his family, as they all share a similar music taste and it gives them a chance to have fun together. On the other hand, Towne goes with her friends, whether they are big fans of the performing artist or not. At The Killers' concert, Towne and junior Hannah Martin arrived late and had to run around the Amway Center to find their entry point. Their spot was not as good as they hoped, but it did not matter. 
"It was just so much fun to be there, going with [Hannah] made it better," Towne said. 
To assure that they can dance and sing at every concert they go to, Guise, Uhler, Towne and France all listen to the artists' music on repeat leading up to the event. France likes to focus on the artists' most popular music, as that is what they are most likely to play. Towne takes it a step further: she looks at the concert setlist.
"I'll literally only listen to the setlist for a couple of days leading up to the concert," Towne said. "I know pretty much every lyric because of that."