Fan favorites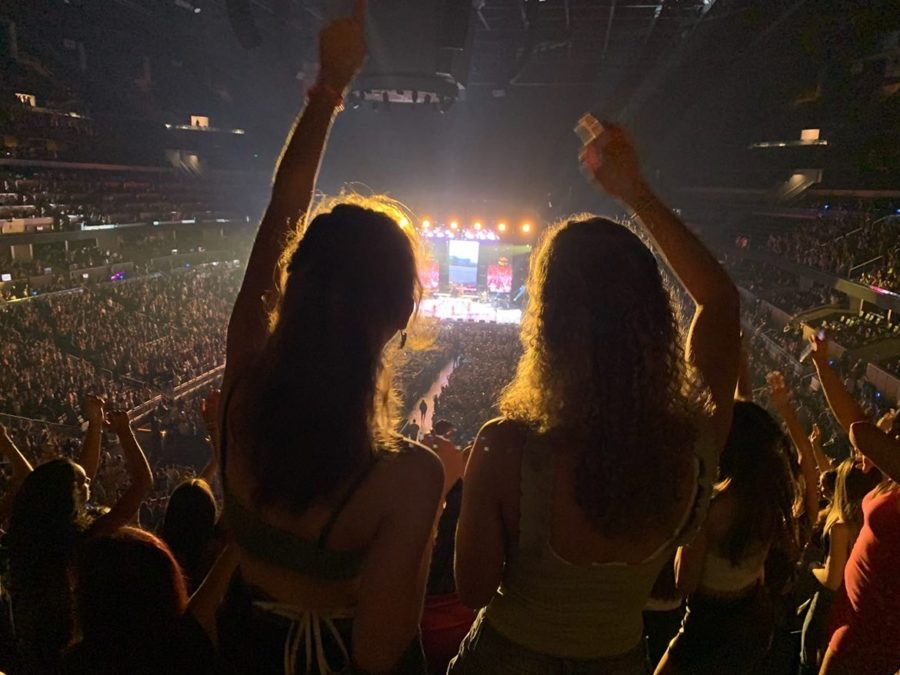 photo by Bela Guise
At most concerts, artists enhance their setlist with lights, big screens, backup dancers and more. Senior Bradley Uhler describes this environment as "electric"—at the Lil Nas X concert, there was butterfly-shaped confetti, strobe lights and a dance crew, making it an unforgettable experience. 
"The live production with all the lights and effects come together to make an amazing show," Uhler said. "Everyone is in the same place to connect over the artist and just have a good time."
But it is not really the lights, setup and special effects that make a concert special—it is just being there. When freshman Shayla France arrived at the Red Hot Chili Peppers concert in October, there was a two-hour rain delay. This might seem upsetting, but for France, it only made the event better.
"The rain delay was absolutely worth it," France said. "After Thundercat and The Strokes finished, the Chili Peppers opened with my favorite song by them, which was sick. I had such a great time."
Sometimes, the experiences can be even wilder. While on a random person's shoulders in the pit of a Denzel Curry concert, junior Noah Albano was dropped backward without warning and began to crowd surf. 
"It was a crazy feeling and I locked eyes with the opening act," Albano said. "I wish I could've done it while Denzel was performing." 
Although many fun memories can be made at concerts, some things can go wrong. At the Conan Gray concert, the fans were rude and constantly pushing each other around, according to Guise. This made her feel unsafe and hindered her ability to fully enjoy the concert. 
"It was so surprising because Conan is a really nice person, but his fanbase just isn't," Guise said. "If I went to a Conan concert again, I would try to avoid people and not socialize with any of them because they're mean."
Still, all concert-goers have a common goal: to dance, sing and bond over the music and environment. For junior Savannah Towne, this is the best part of any concert. 
"It makes the concert experience so much better when you can tell that everyone is also enjoying it," Towne said.