Setting Up Shop: Winter Park
Winter Park is full of stylish and "Instagram-worthy" stores which means it's, of course, one of my favorite places to shop. Even walking down the iconic Park Avenue alone, one could find numerous shops, sidewalk cafes, and museums to explore. Whether you're looking for unique gift boutiques or quirky bookstores, Winter Park is the place for all of your shopping needs.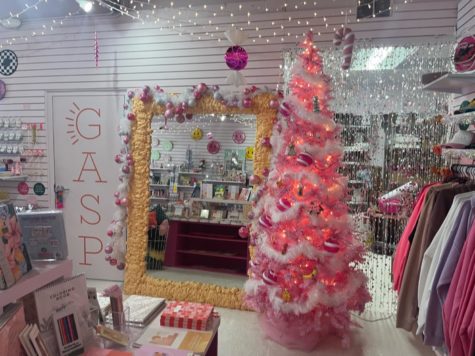 First on the list was GASP. Located at 106 E Canton Ave., GASP is extremely hard to miss with its bright pink exterior. Female-owned, GASP is an outlet for a sometimes overlooked demographic: teenage girls. 
"I just had to open GASP because I would always come up to Park Ave with my little sisters [who are] in high school, and there weren't really many stores for their age. I felt like there were a lot of stores for the older age but not much for college and high school, so I just thought I wanted to have my own," 24-year-old owner Julianna Vargas said.
Since opening in May of last year, GASP has steadily grown from a small local shop to a TikTok sensation, amassing over 122,000 followers. Because the shop's social media coverage was growing, Vargas, a Winter Park native and FSU graduate, decided to bring GASP's shopping experience online, creating a website for customers around the world to purchase from. Vargas hand-selects products to include in her inventory if they are "gasp-worthy," which led to the eventual naming of the store. 
Personally, this store was straight out of my gift-shop dreams. It was stocked with tons of various knick-knacks, from trendy claw clips to a wall of eye-catching keychains, colorfully designed cards and stationery, a counter full of stickers, clothing accessories, and more. Decked out in Christmas decor, GASP is the perfect place to buy stocking stuffers or secret santa gifts for any Gen-Z girl in your life. 
Next on the trip was a somewhat niche crystal shop, Loving Thyself Rocks. Located at 339 S Park Ave., it is one of the biggest metaphysical stores in the area. I stumbled upon this hidden gem accidentally and was pleasantly surprised. Founded in 2018, owners Rachel and Joel Hancock opened the store and ensured that it was stocked with a wide variety of crystals and everything that your spiritual heart desires. 
"Our passion for crystals and self-love quickly turned into what it is today. Between my science and spiritual background and Joel's love for business and entrepreneurship, Loving Thyself Rocks was founded. I was blogging about crystals and self-love and selling chakra sets to beginner crystal lovers like myself, learning more and more every day," Rachel said.
I personally have just started getting into crystals and their metaphysical properties, and Loving Thyself Rocks has a wide selection that beginners like myself and more experienced collectors alike would enjoy.
Open since late 2018, Dear Jane boutique was the final stop for the day. Located at 329 N Park Ave #105, the store is home to cozy but chic attire, home decor, jewelry and body care products. The environment of the store was extremely welcoming, and it smelled great, which was an added bonus. The store had a bunch of new winter apparel items, as well as eye-catching Christmas decor for sale. The boutique was even filled with photo opportunities where customers could snap a quick selfie while shopping. 
If you're looking for a fun-filled day, then definitely take the short commute to Winter Park to dine, stroll through the rose garden, and of course, shop. All three of these shops were worth the trip, but Park Avenue has enough spots for a week of window shopping.
About the Contributor
Kailey Calvo, Staff Reporter
Kailey Calvo is a sophomore at Hagerty High School, and this is her first year on staff. In her free time, she enjoys reading, writing, journaling, listening to music, traveling to new places and being involved in her community.