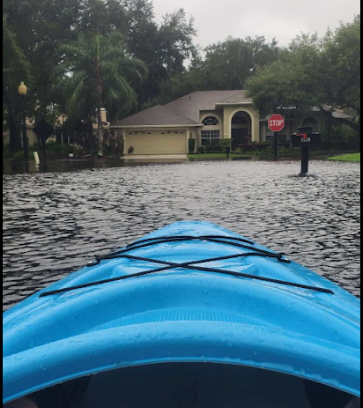 photo by Preston Rupert
Twin Rivers: Preston Rupert, Matteos Ariosa
In Twin Rivers, junior Matteos Ariosa spent the hurricane stepping outside to check on the rising water levels every hour.
"On Thursday night, there was only a little bit of flooding near the sewers," Ariosa said. "And then it just kept on going up. My sister and I had to take everything off the floors."
To Ariosa's surprise, the streets along the Econlockhatchee River were completely flooded by Friday morning. 
"I expected it to be like how Hurricane Matthew was in our area, where barely anything happened besides a few trees falling," Ariosa said. "I was shocked. You wouldn't expect the street to be able to flood that much. It was almost above my knees."
The floodwater reached all across Ariosa's road.In some areas, the water was three feet deep, but his house was far enough from the Econlockhatchee River to have avoided it. 
"I thought [the water] was going to keep on going up," Ariosa said. "I got really lucky."
Living nearby, junior Preston Rupert shared a similar experience. While surveying the damage around Twin Rivers, he passed a cul -de-sac that seemed to be hit the hardest. 
 "They had rescue trucks evacuating a house with an elderly couple," Rupert said. They had two or three feet of water inside their house, so that's destroyed."
Rupert spent the following weekend helping his neighborhood recover from flooding that nobody had fully prepared for. 
"While my grandma evacuated, I got up every hour to check if her house was flooding," Rupert said. "I also helped my other neighbors down the road rip up all their carpets because they got destroyed."
This was not Rupert's first run-in with hurricane flooding. He recalls waking up to a ten-foot alligator in his pool after Hurricane Matthew. Nevertheless, Rupert was surprised at the damage ensued after Hurricane Ian. 
Most of the floodwater in Ariosa's part of the neighborhood abated by Sunday morning. In an attempt to make the most out of his neighborhood's dilemma, he dragged out a pool floatie. 
"I went swimming and canoeing in the water," Ariosa said. "It made me forget about [the hurricane], and it felt like a snow day. It was  pretty fun."
Rupert did the same, assuming that the water was safe to swim in as soon as he saw his neighbors walking in the streets. 
"I thought it was funny and I knew there wasn't any electrical current or anything dangerous in the water, other than alligators," Rupert said.