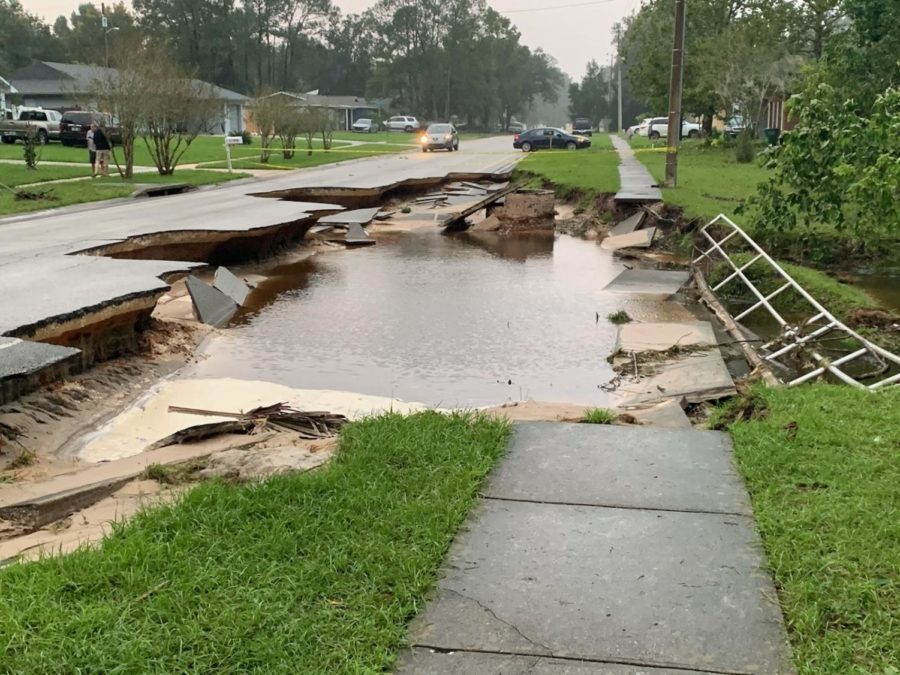 photo by Erin Foley
Winter Springs: Teacher Erin Foley
On Thursday, Sept. 29, history teacher Erin Foley was prepared to greet Hurricane Ian's slashing winds, hurling rain and thunder, but she was not prepared to see two hulking military cars, amidst the aftermath of the storm, trapped in her neighbor's front yard.
"Water was up to people's windows through the windows. Cars were buried, and there were two National Guard vehicles at 8 a.m. The water was so bad that [their cars] got stuck in people's front yards and were not rescued until Saturday morning," Foley said. 
With a nearby creek flooding the day prior, the streets of Winter Springsturned into rivers and its backyards into lakes. Though her neighborhood experienced significant flooding throughout Wednesday and Thursday, nobody could have anticipated what was to come after the hurricane. As waters swiftly rose overnight, Foley's neighborhood fell apart. She recalls waking up Friday morning to a gaping hole in her street, its foundation washed away by the current of the creek underneath it. 
"[The creek] had not only overflowed and taken out the barricade, but it had started to wash away the road and it was like a little waterfall," Foley said. "The water was so ferocious that it blew the big cement cover off of the water drains, and the north part of my street was completely flooded."
According to Foley, her neighborhood was easily flooded up to three feet, with the water reaching up to residents' driveways. Though the inside of her house was not flooded, most of her neighbors are still dealing with cracked foundations, moldy floors and spoiled furniture today, almost a week after the hurricane has passed. Foley recalls surveying the damage days after the hurricane in disbelief. As her neighborhood consists of mainly one-story houses, every piece of furniture was affected by the rising water, leaving many families with nothing to salvage. 
"Their cars, their houses, everything was flooded. All their contents were on the curb to be thrown away," Foley said. "Dressers, furniture, drywall, everything— [the hurricane]just gutted these houses and put [the items] out on the street."