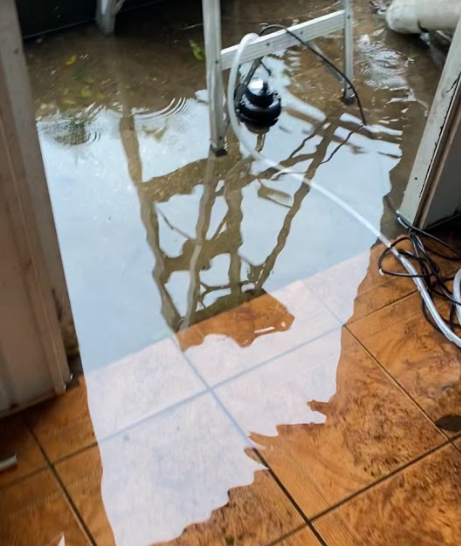 photo by Alyse May
Deltona: Freshman Alyse May
When freshman Alyse May heard about Hurricane Ian, she expected heavy rainfall, strong winds and a few flickering lights. But while at her mother's house in Deltona on Friday, Sept. 30, she got up at 4:30 a.m. and found herself ankle-deep in water.. 
"We didn't expect it to flood," May said. "[We had] no sandbags, no generator, nothing."
May and her mother live near the top of a hill, so they assumed that any flood water would move away from their home. It did the opposite, seeping into their back porch, and later, their kitchen. Not having prepared for Hurricane Ian beforehand, they used what they had on hand, bailing water out of their back porch with buckets. 
"My mom said, 'We need to bail out water, so come help me,' and then I see water slowly seeping in through the door," May said. 
Though May was able to salvage her electrical appliances, hours of work still lay ahead. That night, she and her mother vacuumed water out from underneath the floor tiles while keeping a close eye on the flooding in their backyard. Later, May's above-ground pool ruptured, only adding to the floodwater. Even after five hours of bailing and vacuuming, May still woke up to flooding the next morning. 
"There are holes under the tile that are usually filled with air, so we got a shock vacuum and held it there and it filled up four times," May said. "And there was still more water."
Though the majority of the house remained untouched by floodwater, May expects it to take weeks for the damage to be repaired.. 
 "There is really nothing you can do until after the [flooding]," May said. "We tried our best, but there's still water on our back porch today."