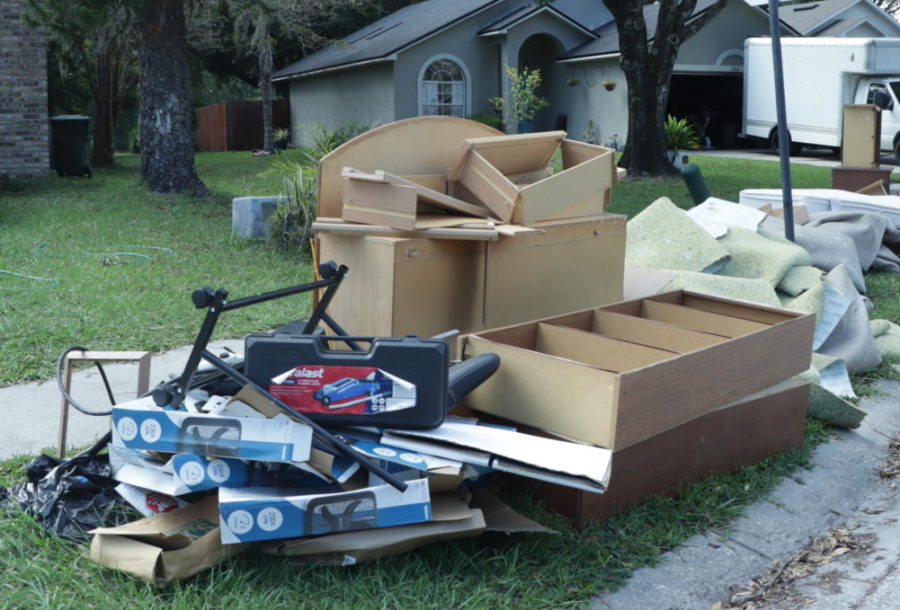 photo by Skyler Glenn
Riverside: Junior Savannah Towne
Savannah Towne, who lives in Riverside, was working at Martin's on Thursday, after the worst of Hurricane Ian was gone. During her shift, her father showed up to pick her up and drive her home. When she had left for work, the water was "a big puddle on the street." But when she came home with her dad, it was up to her driveway and almost at her house.
"We weren't expecting it to go up any higher because the pond was already pretty flooded in the backyard. And the street seemed like it would be fine. But then water just kept flowing from the other streets. The river kept flooding into the pond and into our yard," Towne said.
It was 10 p.m. when her father brought her home, parking up the street, and Towne had to put on rubber boots to wade to the house.
"We started prepping for our house to flood, so we were pulling everything off the ground, taking anything other than furniture and putting it up in the attic," Towne said. "We tried to go to bed, but my dad stayed up watching for water."
Towne did not sleep very long.
"I heard [my dad] say, 'Savannah's room will probably be the first one to flood,'" Towne said. "Then I woke up, thinking that if it did flood, everything would be ruined and we'd have so much work ahead of us."
The water got into the house, soaking the floor in Towne's room and several other rooms in the house. 
"It was a couple inches in the kitchen and in the sunroom, and probably an inch in my room and my brother's room," Towne said. "Once the water started receding, we were left to suck up all the water we could to try and salvage the carpet. But in the end we had to tear it all up."
Though she never lost power and has been able to stay in her house the entire time, Towne is still trying to fully grasp the flood's impact.
"I didn't really anticipate the furniture to be ruined because it all ended up going to the curb," Towne said. "I can't even do schoolwork because my desk is gone."