Chinese program continues to grow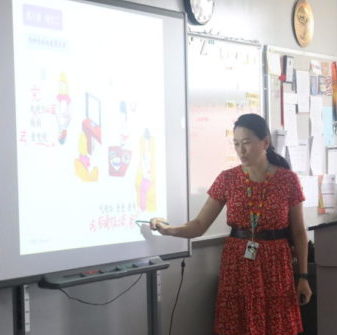 Senior Hailey West stepped into her Chinese class on exam day. Instead of being greeted by separate desks with laptops for testing, she is greeted by their latest project: a tea ceremony to test their Chinese and expand the cultural understanding of the latest Chinese custom the class has been taught. 
The Chinese curriculum has only been in place for three years, starting in 2019. Then, teacher Zhenzhen Zhang only had one Chinese class, but now, she is teaching five levels of the program, including AP. 
Chinese I and II are an introduction to the language with minimal homework and testing, with the exception of vocab quizzes every Wednesday to meet language class requirements. There are no quarter tests; instead, students participate in various projects that expand their understanding of Chinese culture. Chinese III and IV students dive deeper into the language and sharpen their writing, speaking and listening skills, according to Zhang. 
"Chinese III and Chinese IV are where the students really want to explore the Chinese language and culture. We really focus on building up their large amount of vocab and train intensively on speaking and listening skills to get them ready for the AP class and exam," Zhang said.
Zhang was born and raised in China, where she taught kindergarten until moving to the United States with her husband. Although she has been teaching for 10 years, Chinese has been a recent add-on to her expertise.
"I found out the school I taught in Orange County had a Japanese program. I was like, 'Why not a Chinese program? Let me see if I can teach Chinese,'" Zhang said. "I found out that you can pass this exam to get the teacher license for Chinese so I said I'll go ahead and take it and talk to my school."
Zhang's interest in teaching Chinese stemmed from her desire to show students her culture from the perspective of a native rather than from media, news and incomplete history classes.
"I found [teaching Chinese] so much fun and it became an opportunity for students to get to know Chinese culture," Zhang said.
After passing the exam, Chinese became an add on to Hagerty's language classes. The class was advertised during announcements and on WoofTV.
 Along with taking advanced Chinese courses, students are able to join the National Chinese Honor Society, sponsored by Zhang, to show their commitment to learning the language and culture. 
West started taking Chinese the first year of the program, when she was a freshman. She continued her studies of Chinese and has now advanced to the fourth level.
"People thought [Chinese] was hard so I wanted to see for myself. I thought the projects were really fun since we did them instead of testing so I continued with the class," West said. "I want to continue learning the language by taking Chinese classes during college."
Although Zhang's focus has been to teach the language, she has emphasized the importance of learning the culture as well.
"I want students to really understand the culture. They can know more about what China looks like, what the different philosophies and cultures and customs are, how people celebrate weddings, or birthdays," Zhang said. "Nobody knows about that everyday lifestyle and those are the little things I want students to learn."
About the Contributors
Greta Carrasco, Opinions Editor
Greta Carrasco is a sophomore at Hagerty High School, and this is her second year on staff. She was born in Mexico and is fluent in both English and Spanish. Her favorite types of stories are news and editorials.
Julia Sumpter, Print Editor
Julia Sumpter is a senior at Hagerty High School, and this is her third year on staff. She loves writing all different types of stories as well as learning about different design techniques.