AP Spanish stranded in Spain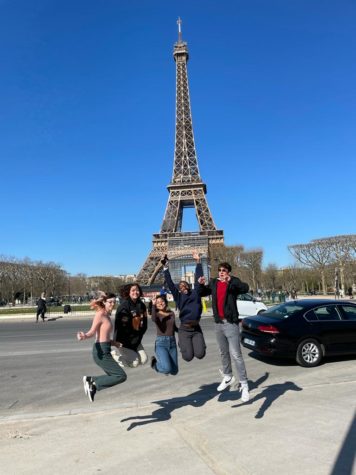 During spring break, a group of seven students from AP Spanish classes and seven chaperones traveled around London, Paris and Madrid. The trip had been planned since the beginning of the 2020-2021 school year and was created to study and explore the culture of Europe. The trip was originally planned two years ago but it kept getting rescheduled due to the pandemic.
As if a two-year delay was not enough, the group was supposed to return on March 22. Due to mechanical problems, their flight was canceled for three days as they waited for the mechanic to arrive from London. During the three days at the airport, they were provided food and water as well as a place to stay until seats opened or the flight resumed.
"We were all frustrated. Students were worried about missing classes and events and parents were worried about missing work," Lopez said.
Flights for the next couple of days did not have space to fit the entire group, so they continued waiting. Finally, they returned on March 25, with a flight to Texas and then Orlando. Despite the problems, the group was still satisfied with the trip.
"When we figured out we couldn't get home, it sucked, but I'd do [the trip] again in a heartbeat. I got so much closer with people I go to school with and learned so much about Europe," senior Evan Siegel said.
The trip started with a flight to London on March 13, where the group stayed for four days navigating the city and visiting sites like Big Ben, Houses of Parliament, Globe Theater and St. Paul's Cathedral. Later that week, they took the Eurostar train that travels below the English Channel to Paris. The group visited Place de la Concorde, Les Invalides, Notre Dame and the Siennes River, where they saw the Eiffel Tower light up. 
"Europe's way of life was fairly different from how it is here," senior Victoria Galindo-Orjuela said. "Most people are really polite and go out of their way to say hello, which is surprising since people often mind their own business in big city environments." 
The final stop of the trip was Madrid, where the group visited Puerta del Sol, Plaza Mayor, Mercado de San Miguel, Prado Museum, The Royal Palace and Toledo, learning about the art of sword and jewelry making. 
"Now that I've experienced a tiny bit of traveling, I would love to go again. It was amazing to see such influential and historical cities and walk where kings and queens have walked," Galindo-Orjuela said.
About the Contributor
Greta Carrasco, Opinions Editor
Greta Carrasco is a sophomore at Hagerty High School, and this is her second year on staff. She was born in Mexico and is fluent in both English and Spanish. Her favorite types of stories are news and editorials.