Shake Shack shakes off competition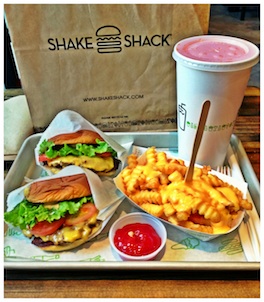 Anyone can go through a McDonald's drive thru and order any average burger with fries. The food is ready in way too short of a time to be considered fresh and if your craving a dessert, the typical artificial flavoring in a McFlurry is available. But wouldn't it be nice to break away from the norm and try a burger that the employees took the time and care to prepare? At the Shake Shack in Winter Park, the word average is not one to be used.
The first Shake Shack was established in New York City and once word got around of the restaurant's success, they began opening up around the country. The Winter Park location, the first shack to hit Central Florida, opened on July 30 and made a huge impact.
What makes this Shack different from others is that it has an expansive outdoor patio space where customers can sit on lounge chairs by the fire pit or play a game of ping pong.
Shake Shack is open Sunday through Thursday from 11 a.m. to 10 p.m. and Friday and Saturday from 11 a.m. to 11 p.m.
The menu at the shack consists of burgers, hot dogs, crinkle cut fries, frozen custard and numerous drink selections. There are even two types of dog treats available.
The single ShackBurger with crinkle cut fries is the perfect combo to fill a person up. Everything is fresh, hot and much better than fast food.
However, the best thing that Shake Shack offers is their concretes.
Concretes are made from their homemade frozen custard, a dense and creamy ice cream, and customers can either choose between a monthly special or to design their own. There are even over 10 mix-ins you can add like cheesecake blondies or chocolate truffle cookie dough.
These desserts are so popular that Shake Shack has a special C-line where customers who are buying only cold items (shakes, frozen custard ice cream and concretes) can go through, order and receive their food at a much quicker pace.
The prices are a little high though, especially since everything has to be ordered a la carte. A ShackBurger, fries and a concrete, however, will keep a person under $15.
Shake Shack is the perfect place to come for a causal dining experience. The food is great and once a person steps inside, they will never want to eat fast food again.