Plant moms
Rose gardens, backyard orchards and simple, yet unique houseplants. When an avid gardener opens their front door, they expect a luscious garden to be waiting inside. However, this is not always the case; plants are fragile and need constant attention to be maintained. As frustrating as it is, many "plant moms" keep them healthy with their special routine and unique drive.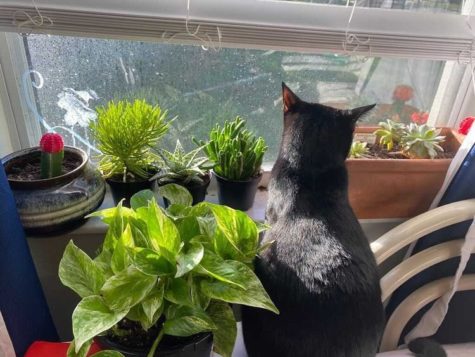 Freshman Natalie Cazaeun does not see herself as a plant mom. However, for her, gardening comes with its benefits and skills acquired.
"Gardening to me is an everyday hobby like drawing or gaming, although it is very soothing, especially when I water the plants and see the progress of them growing and blooming," Cazaeun said.
She grows Japanese plums, limes, mangos and sugar cane. Cazaeun makes sure what she learned over the years is applied with her most recent orchards. Cazaeun has to water them with their specific schedule, renew the soil and spray pesticide so bugs won't eat them.
Cazauen often made mistakes when first learning to garden, but she was able to obtain knowledge that later helped her improve in gardening.
"During winter I forgot to cover the plants, so most of them died out. I was able to save a few mangoes but I did learn to take care of them and beware of how I cover them."
Technical skills may be one way to keep interest in a hobby, but the emotional support goes hand in hand when it comes to gardening. Senior Emily Cobb looks for a relaxing hobby that will bring satisfaction. She has 11 plants each named with her favorite political figures (including Joe and Amy) plus assorted cactuses, succulents, and a marble queen pothos.
"They are my main emotional support, and have given me a sense of accomplishment and something that's constantly there for me," Cobb said.
It's an easy outlet to get away from stress and work on something mindlessly.
Although it does get a little stressful when a few of her plants have withered and died, she still has learned from it.
"The biggest thing is not catching problems in time, I've lost at least two plants because of that, specifically to parasites and rot," She said, "It's always  a call to reality that I needed to make sure that I was taking care of them all."
She has come a long way in her gardening, now able to identify when to renew soil and when is the best time to water them.
"I've reached the point where I can start propagating (cultivating) plants, so I'm not buying them as often, but when I do, it's always worth it because of how ridiculously happy I get," she said.
While education is a big part of gardening, sophomore Katie Pollack continues her hobby because of the memories and nostalgia.
"I first became interested when I was little because my grandma would always teach me how to have a green thumb and she loved gardening. Also, during COVID it gave me something to do," Pollack said.
Pollack owns a money tree, monstera, moondrop plant, imperial rose bush and bonsai tree. Caring for these plants has taught her responsibility and organization– from calculating watering schedules to selecting the perfect soil. 
"The earliest memory of gardening with my grandma was probably decorating her garden on the side of the house," she said. " I was little, so I wasn't much help, but she always made me feel accomplished and told me I could do anything I put my mind to."
Through this hobby Pollack has been able to develop her relationship with her grandma, still gardening together as much as they can.
  "One day when we went out to her garden, we were pulling weeds around her plants. She opened up to me about her childhood and I learned a lot about her that I didn't know before," Polack said.
The reasons as to why plant moms keep gardening on their daily schedule differs from each person and each experience. Each one of them has been able to make gardening their unique hobby, gaining both experience and care throughout their gardening journey. 
About the Contributor
Greta Carrasco, Opinions Editor
Greta Carrasco is a sophomore at Hagerty High School, and this is her second year on staff. She was born in Mexico and is fluent in both English and Spanish. Her favorite types of stories are news and editorials.