'Kate' is just like every other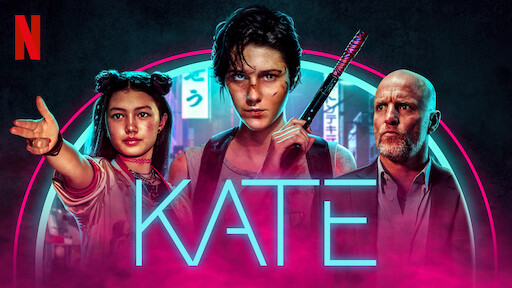 Action movies are known for heroes, chases, and overdramatic CGI. While the Netflix original 'Kate' checks every box, unfortunately, it is the same typical, tiresome action movie viewers have seen a dozen times.
Released Sept. 10, the film follows an assassin named Kate (Mary Elizabeth Winstead) who spends the last 24 hours of her life getting revenge on her attackers.
The movie contains one big kill that sets the tone for all of Kate's decisions and actions that follow. Usually, similar movies have a motive or desire for revenge, which is exactly what 'Kate' had. Throughout the movie her only motive was to get revenge on the people who poisoned her.
Of course, like every action film ever, there is a "shocking" character who acts like Kate's friend but ultimately has ulterior motives. Her whole life is in this person's hands, and she is left trying to distinguish who her enemies really are. Unfortunately, viewers do not get to enjoy the anticipation of finding out who this person is due to it being obvious from the beginning. 
The goal of the movie seemed to be to create shock out of unexpected double crossings and plot-altering decisions. However, each moment leading up to those events made the ultimate "plot twists" predictable. Whether it was in the set up beforehand, or the execution of the supposed shock, nothing was surprising; the audience knows exactly what is coming. 
The acting throughout the movie was not as good as it could have been, with most lacking the connection between the character and the actor, viewers were left watching lifeless characters through a screen. Characters like Ani (Miku Martineau) lacked the personality to be enjoyable to watch, instead leaving her to be an annoying little girl with no real impact on viewers. The only actor who showed a real connection with his character was Woody Harrelson (Varrick), who used past roles such as, Merritt Mickinney in 'Now You See Me,' to help make his character memorable. 
Although the movie was filled with exciting chases through the streets and crazy fights, the movie lacked anything to make it memorable. 'Kate' never leaves viewers anticipating what will happen next and is definitely not worth the watch.
About the Contributor
Angelica Mendez, Entertainment Editor
Angelica Mendez is a junior at Hagerty high school, and this is her second year on staff. Her favorite stories to write are reviews and editorials. She also loves taking her dogs for walks in her free time.