Swim team makes splash at first meet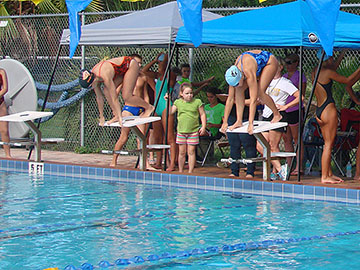 On Wednesday, Sept. 10, the swim team took part in its first dual meet of the season at Lyman High School, against Lyman and Oviedo and placed second.
Points are awarded based on wins and losses in individual heats and compared in three sets: Hagerty and Lyman, Lyman and Oviedo, and Oviedo and Hagerty. The men's team lost to Oviedo 108-197 but won against Lyman 168-103.  The women's team also lost to Oviedo 108-186 and beat Lyman 168-106. Many swimmers improved on previous times, the ultimate goal of meets at the beginning of the season.
Early in the season, the team trains for meets mostly by working on starts and turns, but begins to taper later in the season. The meet Wednesday was a warm-up meet for swimmers to get an idea of what their times are looking like this season.
"Since the season's so short, there's a lot of work we have to put in now in order to do really well at the end of the season," coach Sue Lowe said.
A major part of meets is interacting with the other teams.  Swimmers from both Hagerty and Oviedo participate in club teams together.
"It's a blast going to meets with the Oviedo team," junior Hanako Worrell said. "Since most swimmers on the club team go to Oviedo, it's fun going against them just [to] race."