Former White Stripes front man rocks Jacksonville
After spending two and a half hours driving to Jacksonville's Times-Union Center, half an hour getting into my seat, and a whole hour pretending to enjoy an opening act about as engaging as her mic stand, you could say I was ready for a show.
Jack White, former frontman of The White Stripes, has a reputation for being eccentric. The man is weird, but in a mad genius sort of way.
That being said, it was no surprise when an announcer came onstage to inform us this was the Times-Union Center's first ever rock concert, and that since this was a "rock 'n' roll show, not a poetry reading," we wouldn't need our seats for the rest of the night.
White opened with the Stripes hit, "Fell in Love with a Girl," perfect for raising the room's energy level for the insane show to follow.
White's music incorporates a mix of various styles, including pure rock, bluegrass, country, metal and whatever suits his fancy. His performance style is just as wacky. The artist jumped seamlessly from song to song and back again, almost always without warning his bandmates.
The show itself was a blend of White's various projects, from the Stripes to The Raconteurs, The Dead Weather and his most recent solo work. The sold-out crowd definitely got their money's worth, as White and company never paused for a breather.
Even if White and his shows look like a figment of Tim Burton's imagination, there is no denying he puts on a good show. White, quite literally, made rock history in Jacksonville.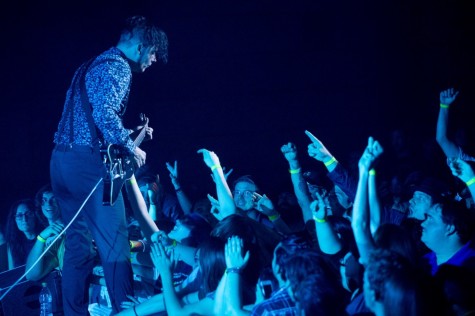 photo by David Swanson