JV football tames Lions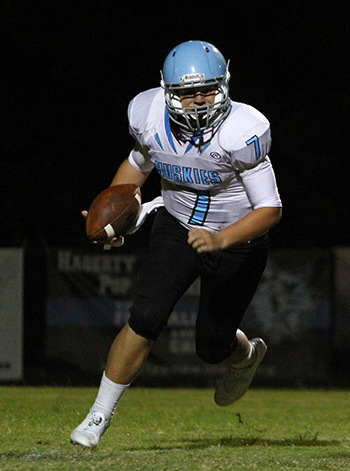 On Wednesday, Sept. 17, the JV football team traveled down the road to face Oviedo High School and emerged with a 35-7 win.
The team came back from a painful loss to Winter Springs High School last week, 19-0, due to  inconsistent defense and lack of offensive flow. However, during their face off with Oviedo, the team was successful in both defense and offense.
Sophomore running back Kevin King led the offense with two rushing touchdowns and a kickoff return touchdown. As a transfer from Oviedo, this was King's first game playing against his former school.
"I was feeling a little nervous because I came from that school last year," King said. "I really wanted to show [Oviedo] why I left and came to Hagerty."
Sophomore quarterback Chase Caldwell also added some key plays to the win with a goal-line rushing touchdown and a passing touchdown.
"I felt excited knowing we won 35-7," Caldwell said. "It felt good beating Oviedo because we haven't beat them in a while. "
Other key players that helped with the win were sophomore quarterback Bryce Miller and sophomore running back Tony Felix, who, in addition to a solid the defense that recovered two fumbles, brought the game home even from Oviedo's campus.
"I was really happy and excited for the team. They've probably had one of their best performances," Coach Rick Lias said. "It was a complete game for both offense and defense this game."
Feeling confident now, the team plays Lyman next week, Sept 23, and rematches Oviedo for the final game of the season on Oct 15.
"I'm looking forward to destroying them again," King said
And because JV brought home the win, their victory brings more momentum to the varsity match playing with home field advantage at Sam Momary Stadium this Friday, Sept. 19, against the Lions with a pumped up Ziglar Zoo cheering them on.