Music of the future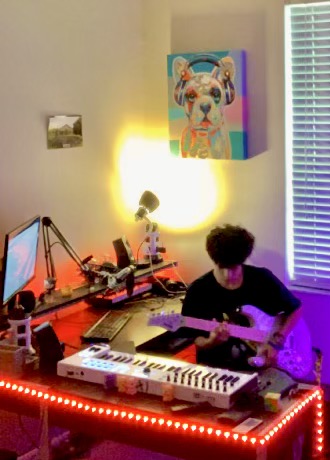 Developing an idea, creating a melody, rhythm and lyrics, recording instrumental and vocals. The music writing process can take months due to all the variables of the song and emotions such as frustration or dissatisfaction. How do these students find patience, passion and inspiration to keep making more?
As technological advancements proceed to improve, music production became more accessible, due to the growth of producing software and online resources that help creators start their journey in the music industry. Even so, not many can start this journey without a devotion to create something new, devotions that three students ultimately have: freshman Jake Green, senior Ash Wise and senior Payton Zitzke.
Both Green and Wise found their passion for music from a very young age. Green would drum on random objects around the house, download music apps, and finally worked with producing software that allowed his ideas to come to life. Wise first started music by following their sister's footsteps, and while she ended up in the medical field, they kept on with music.
Zitzke's case was a bit different. His passion happened more spontaneously.
"After going on a road trip with my dad, I was introduced to the world of rock and punk," Zitzke said. "Something clicked for me on that trip and helped me truly realize how captivating and engaging music could be." 
While some found their passion earlier than others they still have that love and appreciation for music that allows them to create and produce more.
The process of production is simply described as focusing on an idea. All it takes is originality to start the process that will create a well thought song.
"There is always an idea whether you are inside or out in public," Green said. "You go home and pick up an instrument that applies to the idea and just build from there." 
  Incorporating emotion into any given project is a vital step for music production. It allows listeners and producers to connect thanks to the emotional background of the song. The more relatable it is, the better of a chance it has for being replayed.
"You keep moving and stacking layers and layers not only to express how you feel but so the listener is also able to understand and connect towards those emotions that are being induced. Tune it to how the audio is perceived by the listener," Wise said .
  The last and most technical part of the production process combines the piece's essential parts. The rhythm and melody is created and looped, the vocals are recorded and added, and all of the main parts are "mashed" together.
"I want to make sure the song's instrumentals are lush, bittersweet, and theatrically dramatic to match feelings and vision towards the song," Zitzke said  "I can spend months feeling defeated and widely frustrated with myself, unsure of how to properly revise the songs and reach the final product I am looking for. Still at the end I feel like it was all worth it."    
Whether their focus is the idea, emotion, or technical production of the piece, these students are able to produce music that makes them feel both satisfied and content with what they have created.
 Wise and Zitzke have more experience with the music industry as both have been creating vocal and instrumental music for years. Thus far, Green has only started instrumental production, but he looks forward to adding lyrics and vocals to his music in the future.  All of them hope to make a living and build their music careers, whether as a producer, artist or otherwise.
"It's important for people to know that music is more than just pure audio," said Wise. "It's a deep emotional thing that creates a deep connection from artist to listener. Music is my life, music is beautiful."
About the Contributor
Greta Carrasco, Opinions Editor
Greta Carrasco is a sophomore at Hagerty High School, and this is her second year on staff. She was born in Mexico and is fluent in both English and Spanish. Her favorite types of stories are news and editorials.