A journey to self-organization
Bullet journaling allows students to take control of their creativity and bring structure to their lives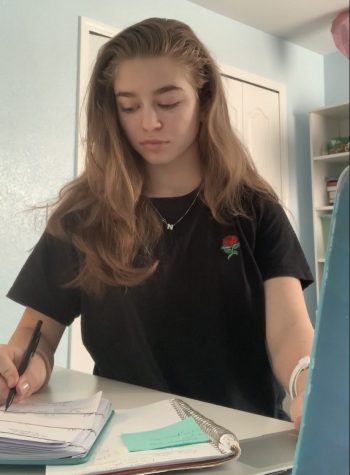 Our daily lives are hectic, filled with many tasks and activities. With so much going on, it can be hard to keep track of everything. From productivity video rabbit holes on YouTube to trying time blocking on calendars, people try to find the perfect solution to manage their never-ending tasks and thoughts; that is where the one-stop-shop of a bullet journal can come in. 
Created by Ryder Carroll in 2013, the bullet journal (BUJO) acts as a streamlined method to organize one's life. It has its own format: a task is represented with a "•," events with an "o," and notes with a "–". 
While there is a basic foundation, creativity is highly encouraged—the notebooks do come blank after all. This is what sets it apart from other systems of organization like planners and note-taking apps, which are more restrictive. Freshman Josephine Santana, who has Attention Deficit Hyperactivity Disorder (ADHD), tried numerous methods of organization before settling on bullet journaling. She finds that it works best for her because of the creative freedom it offers. 
"It was absolutely dreadful to find a method that worked [for me]. With bullet journaling, I get to plan by my own rules," Santana said. 
People tend to feel overwhelmed and hesitant about starting a bullet journal because of the pressure to be "creative." They can be scared off because of the perfectly aesthetic pages on social media filled with art and the expensive art supplies that can surround them. However, all it takes to start is a notebook and a pen. 
"There's this stereotype around BUJOing that it is all perfect shapes and lines, but there's so much more to it than that," junior Rylee Moss said. "Do not be afraid to try different styles and get messy."
Some prefer a minimalistic layout of simple to-do lists, while others enjoy creating extensive spreads to organize their thoughts. Regardless of the formatting, the goal is the same: living through intention. For many, this means managing their time by writing down their tasks and ideas to then come back to check them off. The pretty designs and colors, if one chooses to use them, can be an added benefit to increase motivation. Since starting a bullet journal, senior Madison Drewry has increased her efficiency by organizing and reviewing her tasks for the day, going through them one by one.
"My favorite part is that I get a feeling of satisfaction and productivity every time I cross something off my list. It keeps me focused and ready for the next step," Drewry said.
In addition to boosting productivity, creating spreads or writing out tasks can also help one disconnect from technology. Nowadays, everyone is constantly connected to a device—whether it is for work, school, or recreation. The brief moment where one can step away and cross off something physically can alleviate mental anguish. In turn, this also helps one relax and reduces feelings of anxiety. Senior Natasha Nilsen believes that putting down even the simplest items to check off can reduce stress and lead to feeling less overwhelmed. 
"Even if there are one million things on my list, writing it out makes me see things from a different perspective," Nilsen said. "When I write out all of my tasks, I see things logically and clearly instead of going to work with a storm going on in my head."
Although physical journals are most common, for people who prefer the convenience of technology, online systems for bullet journaling exist as well. There are multiple apps available online, but one that has been increasingly popular is Notion, an all-in-one productivity workspace. It contains a template specifically for bullet-journaling, which junior Aidan Donaghy uses to be more efficient with his assignments and goals for the week.
"Before I found Notion, I didn't have any real organization of my work," Donaghy said. "I'm terrible at art so being able to show work in an easy and simple way on my computer or phone is very nice to have."
Whether using a physical or digital bullet journal, every page or addition can provide a way for one to look back and reflect on their tasks, experiences and goals. Nilsen's favorite page in her journal is the one where her short and long-term goals reside because she can see how much she has accomplished over time. She believes everyone should try bullet journaling.
"I can visually observe how far I have come, and be aware of what needs to be done," Nilsen said. "The more I journal, the better I get at estimating my own pace, my own efforts and tempo."
About the Contributor
Sharika Khondaker, News Editor
Sharika Khondaker is a senior at Hagerty High School and this is her third year on staff. Through journalism, she has learned to become a better writer and got to experience new things out of her comfort zone. Outside of the newspaper, she is an active member of several clubs, including the robotics team. She started her own podcast and loves to read and play guitar in her free time.