A magnificent medicine for boredom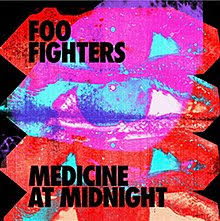 No rock playlist is complete without the popular hits of rock band Foo Fighters. Songs like "Best of You" and "The Pretender" just scratch the surface of what they have to offer, and they keep their momentum going with the new album "Medicine at Midnight."
While similar to previous works, the album delights fans with top songs like the titular "Medicine at Midnight" and "Making a Fire." These songs contain the band's trademark fast beats with interesting lyrics that are fun to scream in the car when stuck in afternoon traffic. 
The album weaves an interesting sort of storyline, with the first half being largely full of songs about experiencing life, with songs such as "Making A Fire" and "Shame Shame." Meanwhile, the latter half is full of songs focused more on mortality, like "Chasing Birds" and "Love Dies Young." These two reflections of each other give the album more complexity should the listener choose to listen to it in its intended order. 
Similarly, the center of the album seems to be a bit more about expectations. The song "Waiting On A War" describes how the singer's environment caused him to glorify and hope for conflict to compensate for his desire for love from those around him. On the same note, the song "No Son Of Mine" describes all the expectations a parent places on their child. These songs outline the complexities felt when others push their assumptions onto someone else. 
There is not a single song in the soundtrack listeners will be tempted to skip and many will become fan-favorites alongside "My Hero" and "All My Life." "Medicine at Midnight" provides a fun, fast-paced listen any rock fan will enjoy.
About the Contributor
Gabriella Herrera, Editor-in-Chief
Jaye Herrera is a senior at Hagerty High School and this is her second year on staff. She enjoys exploring the internet, writing, and reality TV. While on staff, she hopes to learn more about digital design and improve her editorial writing and leadership.