TMNT hits the sewers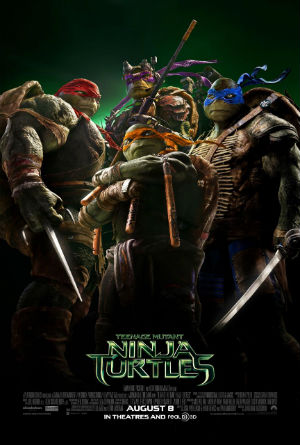 In a desperate attempt to combine childhood heroes, modern day technology and Megan Fox, the movie "Teenage Mutant Ninja Turtles" did not meet its already dismal expectations.
The previews mislead you to think that maybe this film is different from the usual Michael Bay "blow everything up" movies (which would not necessarily be a bad thing) with intense action and some hot Megan Fox scenes; however, action is hard to come by and is usually plagued by cheesy dialogue and one sided victories, and Fox seemed like more of a trap to grab older fans.
TMNT, to me, is more like one of those "hip" movies for 13 and 14 year old couples to get dropped off at by their moms. For example, the nemesis Shredder idiotically turns his back to the turtles who proceed to play a child hood game mentioned earlier in the movie called "Buck-Buck" to predictably defeat the villain just like any other poorly scripted box office flop.
So if you went in expecting action, you are already feeling a little down. But do not fear for this movie has the star of every Bay film. Megan Fox. Now, do not get me wrong, Fox has had her share of shining moments, but this movie was not one of them. Her role of a nerdy reporter no one believed simply did not fit her; she seemed out of place and it showed in her poor acting.
While it seemed that nothing could make this movie more disappointing, ad placement took it even lower. Whether it was the countless appearances of Pizza Hut or Michelangelo's secret Orange Crush stash, brand names came early and often.
Really, unless you are a huge TMNT fan or just want some extra cheese, you probably should not watch this movie. You are most likely better off going to the nearest PetSmart and watching the turtles play in their cage for two hours.