Altogether sweet but boring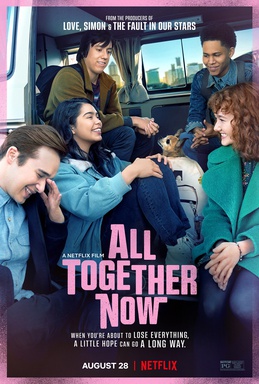 From the producers of "Love, Simon" and "The Fault in Our Stars" comes a new Netflix hit, "All Together Now," released Aug. 28. 
The film follows Amber Appleton (Auli'i Cravalho), a teenager living in Portland, Oregon who has a love for music and a heart of gold. Throughout the movie, she faced many hardships which allowed the viewer to connect with her on a personal and emotional level. Amber and her mom are homeless and stay in a school bus at night but they stay optimistic about the future. This allows for the viewer to build a connection with Amber and see her perspective.
Cute moments in the movie like relationship sparks and Amber's sweet relationship with her dog, Bobby make the film wholesome. 
Although the movie overall was sweet, the storyline of "All Together Now" is entirely mediocre and not something that may keep you engaged. Some parts of the movie make the audience think, but overall, the plot was very predictable. People are easily distracted when watching this film since there were no events taking place that hold their attention. 
On top of problems with the storyline, "All Together Now" was full of bad acting. Actors seemed like their facial expressions were forced during scenes and the movie did not flow as well as it should have. Many times, actors seemed like they did not want to be there nor be a part of the movie. 
While a few tears may be shed while watching this movie, it does not make up for the flat character development and bad acting. If the acting did not seem so forced and the storyline was more exciting, viewers may have been able to sit through the whole movie. 
Not only was the acting bad, too many names and too many faces were mentioned. It was hard to keep up with the story, as it was so scattered. There were people that made appearances in the movie and then their name was brought up later on, leading to mass confusion.
"All Together Now" is more of a film for a younger audience who would not look into the small details of the movie's flaws. Serious movie watchers would not make it through the film especially if they are looking for something unique with a great storyline.
About the Contributor
Julia Sumpter, Print Editor
Julia Sumpter is a senior at Hagerty High School, and this is her third year on staff. She loves writing all different types of stories as well as learning about different design techniques.