GTA V steals spotlight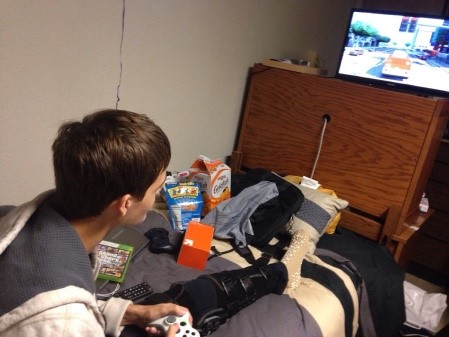 Fun, exhilarating, non-stop action, explosions, car chases, heists. What more do you need in a game?
A commercial success, Grand Theft Auto V broke industry sales records by earning $8 million in the first 24 hours of its release, making it the fastest selling entertainment product in history. Sales, word of mouth, great reviews, and the fact that the game is more grounded than most other games helped the game become a success.
"Its graphics are out of this world and everyone can play it since there is a lot of variety," sophomore Matt Licari said.
There are over 100 main missions and side missions, mini games and heists galore, allowing players to cause as much mayhem as possible in this newest installment in the franchise.
GTA V is an action-adventure video game developed by Rockstar North and published by Rockstar Games. It is played from a third-person perspective in an open world environment, letting players interact with the game world at their leisure.
"GTA V is better than any other game in the franchise because there are more missions and the world is bigger," freshman Kyle Waugaman said.
Players can run somebody over, blow up a gas station, and get five stars. If a player gets any stars, the police will be alerted and the gamer will end up in a police chase.
The single-player story is told through three player-controlled protagonists whom the player switches between, and it follows their efforts to plan and execute six large heists to gain wealth for themselves.
"My favorite character in the game is Trevor since you don't know what crazy things he's going to do," Licari said.
The game offers an online mode as well, which gives players an opportunity to mess around with their friends. The story also has interactive missions that allow characters to jump out of planes, steal submarines, demolish buildings, and orchestrate large heists among other things.
"I prefer playing the story rather than online because it's rich, long, immersive, and fun," sophomore Patrick Reynolds said.
When the game came out, it was acclaimed by reviewers who praised its story missions, presentation, and open-ended gameplay. But its depiction of violent themes, including Trevor's psychopathy and use of torture, and the game's treatment of women were not well received by reviewers. In one part of the story, Trevor blew up a house just because he wanted to. However, the explicit content adds to the game because the nature of GTA V is dark and gritty.
As one of the last major releases for the seventh generation game consoles, GTA V was highly anticipated.
"GTA V lives up to the hype because it has amazing graphics, gameplay, and voice acting," sophomore Quentin Westbrooke said.
After groundbreaking sales records and making great reviews, GTA V will leave its mark in videogame history.