Sugar, spice, and everything not pumpkin
Pumpkin spice has completely consumed fall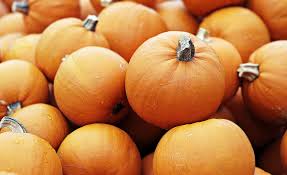 In Florida, we do not get the same "fall" as everyone else, which means it stays disgustingly warm year-round. Maybe one palm tree turns a slightly less vibrant green, jackets become acceptable or the air conditioning is able to be shut off without someone's house catching on fire, but we usually lack the glorified season of October to November that is promoted on ads, and other media.
Even though we lack fall weather, we make up for it with an intense amount of seasonal decorations. Walking into Publix on Sept.1, you are bombarded with a spread of leaves, pies and all things pumpkin spice.
Pumpkin spice is already the most common flavor of the season, and yet, somehow it has managed to gain popularity every year, no longer something to look forward to, but rather to dread. "Pumpkin spice," is not even real. It is just a mixture of cinnamon, nutmeg, ginger, cloves and allspice. You cannot get spice from a pumpkin.
Pumpkin spice is not the only fake in the fall food game. Pumpkin pie, is a staple at most American Thanksgivings and has been since 1621. Whether you buy it from the store or even make it at home with a can of pumpkin puree, the ingredients say pumpkin, but there is no actual pumpkin involved. Pumpkin pie is just a mixture of various winter squashes such as: Butternut, Hubbard, Boston Marrow and Golden Delicious.
It is not a real seasoning but, the spice has managed to take over every item offered at the local grocery store, and it continues to bleed into specialized foods, scents and decorations.
Popular retailers have been incorporating this product into their seasonal collection for years. Bath & Body Works has an arsenal of pumpkin-scented products, Alex & Ani sells a "Pumpkin Spice" bracelet and you can buy a pumpkin spice dog bandanna. It has even come to the point where a pumpkin spice tattoos are socially acceptable.
Most brands have their own take on pumpkin spice, however, the most overused and glorified product of all is the pumpkin spice latte. Starbucks offers great and fun beverages perfect for those with a sweet tooth but, the PSL tastes very much like warm dirt.
Despite being a flavor straight from a hole in the ground, people still like it, but people also used to like plastic straws and look how that turned out.
This season try something other than pumpkin spice. There are so many other seasonal options, like apple, cranberry or even salted caramel, just waiting to be enjoyed.
About the Contributor
Chanson Cadet, Staff Reporter
Chanson Cadet is a senior at Hagerty High school and this is her second year on staff. She enjoys sewing and writing the fashion column. Chanson hopes to have another great year in the newspaper.