Setting Up Shop: Audubon Park
To finish my tour of Central Florida shopping spots, I picked Audubon Park. I knew that the quaint shopping environment would be just the fun and laid-back atmosphere I needed before AP exams. Nestled near Winter and Baldwin Parks, Audubon Park is the perfect place to spend your Saturday.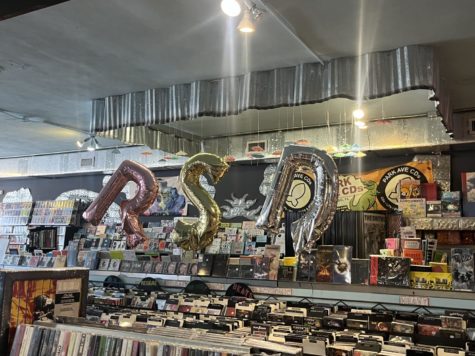 My first stop of the day was Park Ave CDs. This is one of my favorite places to spend time with friends…and spend money. 
Park Ave CDs' name could be slightly misleading for some customers, as it is located on Corrine Drive, not Park Ave, and sells all types of physical music copies. The original location opened in 1984 on Park Ave, and owner Sandy Bitman decided to keep the original name when relocating in the early 2000s.
However, Park Ave CDs is not your average indie record store, hosting free listening parties for upcoming albums, social media giveaways and in-store performances by local artists.
"It's a place where people can come to relax. They can find [a record] if they're feeling great, or if they're feeling blue. It's just a staple of what a good community should be," Bitman said.
Being a part of the Coalition of Independent Music Stores, Park Ave CDs participates in Record Store Day, a yearly event that seeks to increase participation at local record stores, so music lovers can go and buy exclusive drops.
Aside from being a music distributor, Park Ave CDs has quirky and fun gift items for shoppers, like an entire wall of Funko Pop figurines, new and used books, and unique candies.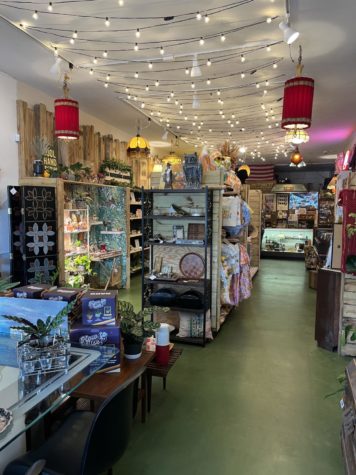 My second stop was the Owl's Attic. After having lunch at East End Market across the street, I was prompted to visit the groovy vintage store after seeing the smaller Owl's Attic pop-up shop. As soon as I walked into the Owl's Attic, it felt as though I was transported into another world. Owners Brittany and Auggie Sulser had incense burning, as well as decorations that provide a complete shopping experience for every customer. Established in 2011, the couple's love for music inspired their fashion collection and led to them getting an even bigger space. 
While the majority of the collection is from the 1960s and 1970s, the couple hand-picks vintage pieces that range from the '50s to the '90s.
"The business side of owning a business is definitely the challenging part—picking and collecting is the fun part, but then there's so much more to it that you know we were totally unaware of when we first got started," Sulser said.
The Owl's Attic also contains small booths at the back of the store to support and showcase local small businesses. From jewelers like Gypset Co to clothing brand Whateva Lola, the Owl's Attic offers different types of merchandise for all customers.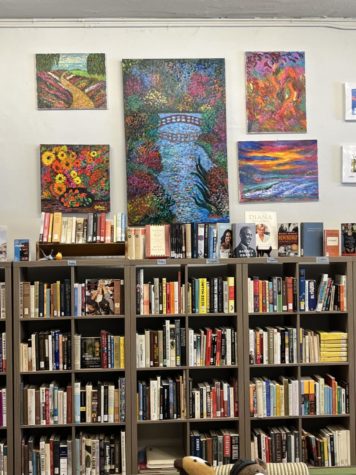 My last stop of the day was Joybird Books. When opening the store, owners Andrew Walker and Ollie Bird sought to create a sense of community through their mutual love of literature.
"My love for books just always seemed to come naturally. Books were something that I could always connect with and something that was always there, no matter what," Walker said.
After winning a college library auction at the University of Georgia and obtaining over 15,000 books, the couple's dream of opening a bookstore became a reality.
"Opening our own store was always one of those far-off, 'Oh, wouldn't that be so cool' sort of thoughts, so it was never a concrete thing until recently," Walker said.
Not only does Joybird have a book for all book lovers, but its cozy atmosphere is welcoming to all. With shelves and shelves of books, all readers will never run out of options when shopping.
Aside from being a bookstore, Joybird serves as a community event site, regularly having open-mic nights or poetry nights. 
"The outpouring of love and connection from our neighborhood has really driven the passion and quantifies the value of our space. This feeling that it's not just mine and Andrew's, and it's not just another store, but that our being here really means something for our community," Bird said.
Mainly selling used books, prices are generally $5 for paperback, $10 for hardcovers, and $15 for larger format books. 
"I feel like used books are more accessible for everyone because you don't have to be price motivated when making a selection," Walker said.
Audubon Park definitely has unique shopping experiences, as well as tasty restaurants and local markets that can enhance your day. Although this town may seem small, Audubon Park is filled with different local businesses that cultivate a community environment that supports and uplifts one another.
About the Contributor
Kailey Calvo, Print Editor
Kailey Calvo is a junior at Hagerty High School and this is her second year on staff. She is acting secretary of Rho Kappa and treasurer of Girl Up. In addition to being heavily involved in her community, Kailey enjoys traveling, reading, and attending concerts.